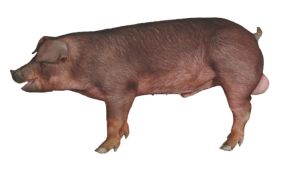 PIC800 fka PIC280

The Industry's Leading Meat Quality Boar
The PIC800 is the meat quality boar. Its superior meat quality and marketability make this Duroc boar ideal for packers. The 800 has a high lean percentage with excellent growth rates and feed efficiency.

Our PIC®800 is the ideal terminal sire for packers who want a Duroc with outstanding pork quality and leading primal yield, while providing producers the Duroc sire with the lowest production cost available.

• High carcass value
• Most full-value pigs marketed
• Outstanding pork quality
This powerful combination is the result of PIC's innovative quantitative genetic program coupled with the latest DNA marker technology for meat quality.

Line Development Improves Meat Quality
The PIC800 boar is produced under PIC's most intensive meat quality improvement program to date. This program begins with great-grandparent lines that are selected for long-term improvement in lean, growth rate and feed efficiency. These lines, naturally negative for the Halothane gene, are then genotyped for a range of exclusive PICmarq™ DNA markers for improved pH. These lines are further assessed through routine weekly measurements of carcass lean %, depth of loin, and meat quality from littermates and all other relatives.

Sales Ranking Emphasizes Performance Traits
Terminal 800 boars undergo a thirteen-week performance test prior to being made available for sales. This performance test ensures that boars with the highest production efficiency based on growth rate, feed conversion, backfat and loin depth are identified. Meat quality information gathered from relatives is again incorporated to calculate EBVs for meat color (using Minolta L*) and pH. This ranking gives producers who use the PIC800 a unique competitive advantage to produce high quality pork without compromising robust production performance and profitability.