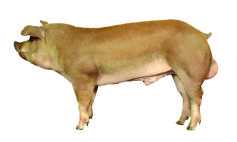 PIC380
The Ultimate Combination in Swine Genetics!
Bred for maximum system throughput and profits, the PIC380 is a hybrid sireline designed to maximize system throughput, while providing the high standard of carcass and meat quality for which PIC progeny are known. With selection based on PIC's Crossbred Breeding Values (CBVs), the PIC380 progeny exhibit excellent daily gain and feed conversion rates, all the way to high slaughter weights.

Benefiting from the outstanding carcass and meat quality characteristics found in both the PIC280 and PIC337RG, the PIC380 progeny demonstrate excellent primal yields and optimal lean percentages. Fast growth and high feed efficiency inherited from those lines bring you the low cost of gain you have come to expect from PIC sires. In addition, the hybrid PIC380's progeny can also be expected to have strong birth to market survivability, even to heavy market weights.